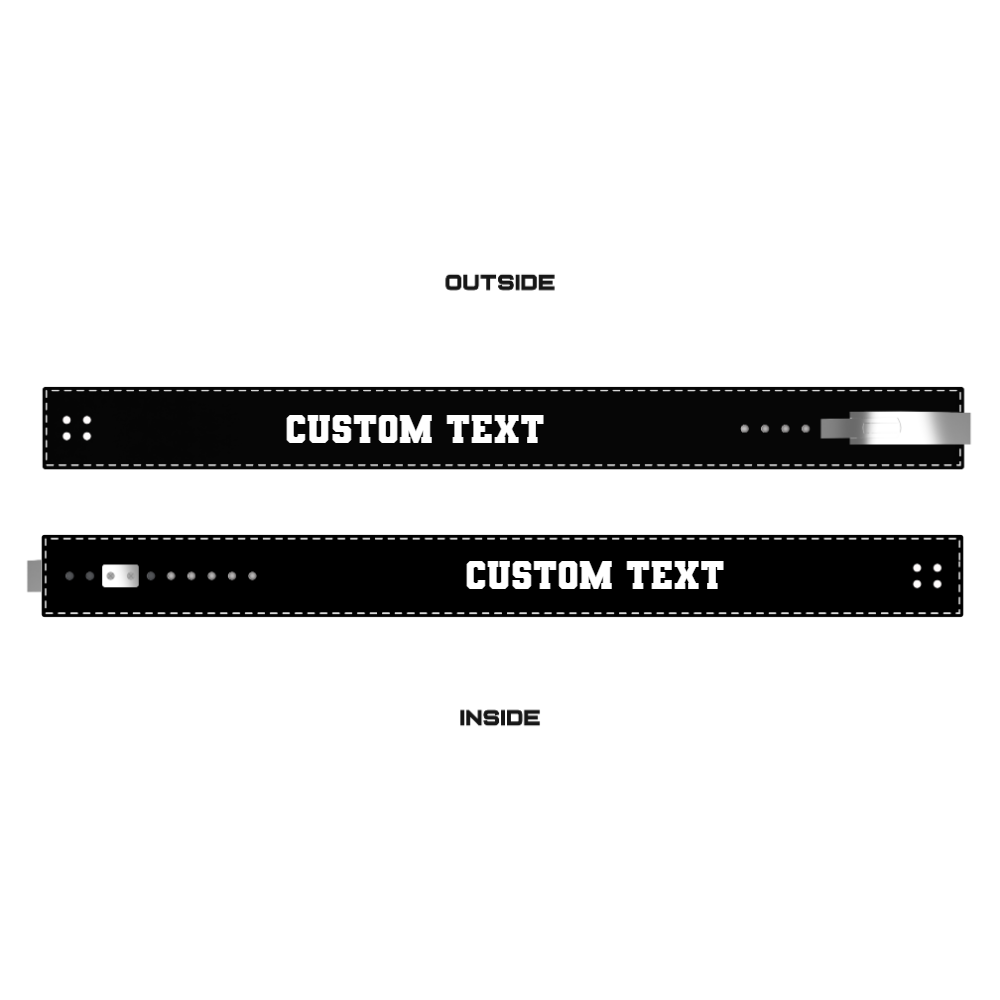 Custom Lever Power Belt
/
Tax included.
Shipping
calculated at checkout.
Please read description for FAQ's and production times
Custom Lever Power Belt Builder
As always, we cannot guarantee a completion time or delivery date due to the complexity of the manufacturing process. Our average production time is anywhere from 6 or less weeks during low demand up to 12+ weeks during high demand.
Build your own custom leather weightlifting belt.
How to measure for the perfect belt fit.
IMPORTANT
Please triple check you have the correct size. The measurement you choose will be in the middle of the belt holes so you will have around 4 inches of adjustment on either side of the measurement you choose.
BELT FEATURES
- High quality 100% leather
- 6.5mm, 10mm or 13mm thickness
- High-strength lever and buckles
- 12-month warranty on levers and buckles
- Standard manufacturer's warranty on the belt
GALLERY
Check out the Custom Leather Belts 360 gallery or image gallery for inspiration. 
BELT GUIDE
If you're unsure what type of belt is right for you check out our article Training Belts: The Beginner's Guide.
OPTIONS EXPLAINED
To see all our belt options check out our Custom Leather Weightlifting Belt Options page.
THE BUILDER TOOL
Note on text: With some fonts, the belt builder will slightly offset the text low but we will centre the text on the final product.
This is a basic online belt builder. If you have a design that can't be made using this designer tool, please email us with your idea and as much detail as possible (with drawings, images, or screenshots) and we will work with you to create a design. 
We will try to match your colours and design as closely as possible, but please note different screens can show slightly different colours. 
Please leave as much information in the customer notes as possible to help us.
If we need to make any changes, we will contact you first.
Sent from Australia, International shipping available.
3 - 5 days shipping time within Australia once the belt is finished
7 - 15 days shipping time outside of Australia once the belt is finished
If you're unsure about your size just ask us via email or social media chats and we can help you out. Please keep in mind if you are bulking or cutting your waist size might be different now to where you might want it later.